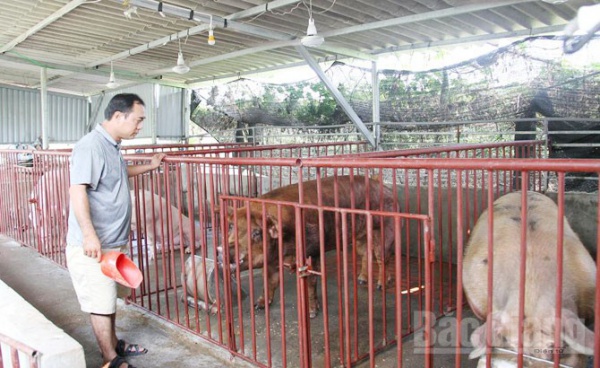 Mr. Luc has a lot of experience in taking care of sow herds.
He graduated from Veterinary Medicine in 1995, Chu Thuc Luc, Dong Long village, Quang Minh commune, Viet Yen district (Bac Giang) practicing medicine for cattle and poultry in the locality.

After years of trades, he accumulated experience. As far as he is concerned, customers inside and outside the province know him. Many large farms in Quang Ninh, Hung Yen and Lang Son also invited him for technical consultancy, care and prevention for herd.

The process of healing in many places, he learned a lot from the experience of that model of breeding. Seeing the effect of breeding, again available expertise in hand, in 2013, he began investing in breeding. Due to the limited capital plus the cramped farmhouse area, he initially tested only 20 pigs. In 2014, he bought more than 1500m2 of land for breeding facilities. Over three years, invested more than 3 billion to date, he raised 80 foreign sow, 7 pigs breeding semen, building two rows of breeding facilities, building two biogas gas, storage room, laboratory.

According to Mr. Luc every month his sow herd of about 300 children, the family moved to raise meat. Each year he sells more than 2,000 pigs, plus the income from the bran store also brings home a family income of more than 1.5 billion.

In order to have such a large source of income, the couple had to work hard from morning until midnight. His family built a laboratory. Every day, taking samples of specimens and specimens for diagnostic tests for pig health, he knew the disease situation to prevent timely. He also anticipated the development of the domestic and foreign markets to invest in a focus so any pigs that go to the cages to make a profit.

He said, "The pigs are not difficult, I just have to pay attention to do a little, mainly to learn, learn new techniques. In order to have healthy pigs, we have to choose good sow, good feed, care and nourishment carefully, clean and cool breeding facilities.

Looking at the system of breeding facilities are designed scale, science to understand all the effort he has invested in this model. He said that in the coming time, there will be an extra range of cages to raise more sows, raising the efficiency of raising animals.