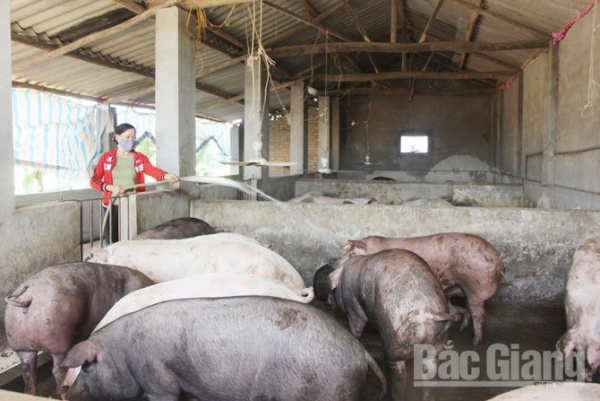 Using biogas digester has reduced labor force for livestock farmers
Phan Thi Bich's family, Xuan Dong Village, Xuan Phu Commune, Yen Dung District (Bac Giang) have been breeding pigs for more than 10 years with an average of 10 - 20 heads per batch. In 2015, she increased pigs to about 40-60 per litter.

In early 2016, when many local residents built biogas digester, her family also invested in the tunnel with a volume of 25m3, KT1 style. Currently, in addition to raising pigs family grows 2 sao of fruit trees such as longan, pomelo, papaya and fish.

Previously, Bich also had to cut lawn in the field to feed the fish, but now using the waste from the biogas digester as food source should be about 3 days she must cut grass. When there was no cellar, she and her daughter (born in 1994) finished cleaning the cages and turned to look after the garden. Now, the mother and daughter she did each other, while spending less time is not as hard as before. Especially, the biogas fuel for cooking makes it easier for both parents to cook. Her family saved about 300,000 VND / month from this source of fuel.

Ms. Bich shared, "Since the biogas plant, the family's VAC model has developed much more efficiently, significantly reducing the labor force of the whole family, especially the mother and child. I am very glad that I only had time to stay home from morning to night for breeding, so now I have time to participate in social activities. "

In the same spirit, in 2014, three million VND will be supported to build biogas plant from LCASP project, Doan Thi Hoa family, Trung Luong village, Cao Xa commune, Tan Yen district (Bac Giang province) Biogas, volume 40m3, cost about 30 million. Currently, her family raised 50-60 pigs / batch. In addition to breeding, she grows 1.5 acres of fruit trees and medicinal herbs such as longan, grapefruit, spinach and fish.

If before, each time P fertilizer, protein for the orchard of the family, brother, she must work more than a week to complete now, her husband only takes about 2 hours can water the orchard from Waste water from biogas digesters. Thanks to that, she has other working hours to raise her family income.

Using biogas waste in cultivation, Hoa said that the plant grows well, not pestilent. In particular, reduce tens of millions of dollars to buy fertilizer every year. The stalling is also harder. Her second daughter before each school is about parents, but now do not have to do but focus on learning.

Ms. Hoa said: "From the efficiency of this model, my family intends to expand the scale of raising and area of ​​fruit trees to increase income.

It can be said that the construction of biogas is really the right direction in livestock development and family economics, unlocking labor force for many rural women and children, and also giving Give them more opportunities to study, work, participate in social activities, empower women in life.