LTS: So far, the low-carbon agriculture support (LCASP) project, funded by the Asian Development Bank (ADB) loan for the 2013-2015 period, has been more than half way through. A project that farmers are a "salvation", especially in the field of livestock, where the problem of environmental pollution is surrounded by fields, breeding facilities cause social problems.

In addition to the basic advantages, the "helm" team, realizing the reality of life also encountered obstacles. In this series, the ARV Group returns to the LCASP provinces to listen to the concerns and aspirations of the people and members of the PMU. Hopefully, the information we convey will be a useful database for the project to set the correct orientation and "target" on time.

Among the four components of the LCASP project (Livestock waste management, credit for biogas value chains, low carbon agricultural technology transfer and Project Management) Construction and installation of small biogas reactors (to solve the problem of small-scale household farms, mixed with residential areas) are moving to the destination. Because, the effect it brings has relieved the concerns of the raisers.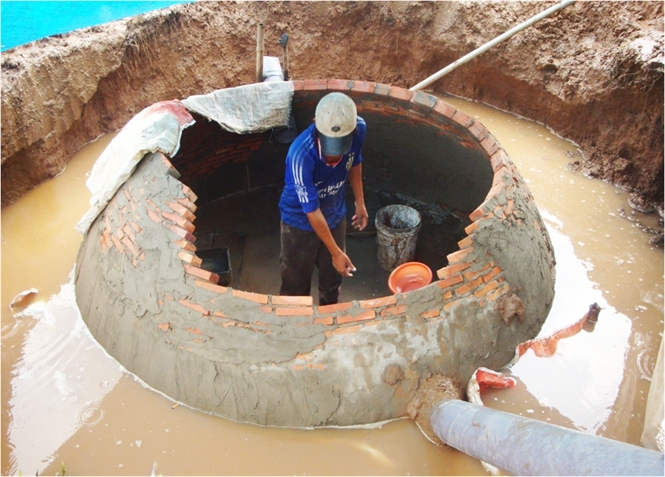 Do not worry about the stench

If anyone doubts that, listen to Pham Vien's share in Gia Tri hamlet, An Duc commune (Hoai An district, Binh Dinh). For many years, the income of his family is based on breeding pigs, the cost of education for three children also rely on the pigs. There are 3 sows and several dozen pigs in the cage. Because of the lack of land, the pigsty of his house must be built next to the house. Before the construction of biogas cellar, the house must live with bad smell all day and night, but because the business should suffer. "The LCASP project supported VND3 million, and my wife and I discussed spending sparingly to save 10 million VND to build biogas reactors. Since then, the members of the family feel better, because they no longer have to breathe all day long. Neighbors also complained that the environment was no longer polluted, he shared. And Do Thanh Phuong in Ha Dong village, An Huu commune (Hoai An district) graduated from Agricultural Intermediate Cultivation, but when married to Mr. Phuong to build the industry by raising pigs. Because of the lack of labor, Mr and Mrs Phuong's husband had less than 5 sows and more than 10 pigs. Although small scale but very early, Phuong couple have a sense of environmental protection in breeding. In 2005, when the LCASP project was not supported, Phuong's family spent over 4 million VND to build a 7m3 biogas reactor. At that time, the number of pigs only maintained about 10 children, the amount of waste discharged into the tank in accordance with the ability of treatment of the works. But a few years back, the price of high commercial pigs so he increased herds, the peak, the number of pigs in the cage up to several dozen, exceeding the processing capacity of the tunnel. Mr. Phuong is considering to register for construction of biogas reactors under the LCASP project to receive VND3 million to build more biogas tanks, thoroughly address the problem of environmental pollution.

The scene of pouring stool

Soc Trang is one of the ten provinces where LCASP has been implemented, as investments in small-scale biogas projects have shown superiority. Ms. Danh Thi My Tien in Ta An B hamlet, Thuan Hung commune, My Tu district said: "I have 6 dairy cows. Since joining the "biogas project" (the name used by local people to replace the LCASP project), I find it useful to save money on household gas. " A gas tank about 2-3 months and sometimes more than a month. The price of gas varies from 300,000 to 320,000 VND, even up to 400,000 VND. Calculates a year savings of 3 million. It is worth mentioning that the gas from the biogas tunnel makes cooking gas for the whole family is not used at all. In addition, they can handle the fresh environment, no unpleasant smell, mosquitoes fly out.
Ms Lam Thi Huyen (born in 1970) and Ta An B hamlet, Thuan Hung Commune, complimented: "There are biogas and then know, very well, no longer hunt for firewood, just pop up. There is fire and save time to do other work, especially bad smell should not be neighbors neighbors complain anymore.

Like Ms. Trang, now Mr. Quach Nhung in Tra Lai 2 hamlet, Thuan Hung commune is raising 10 sows and more than a dozen pigs can still eat better sleep than before. Mr. Nhung recalled the scene before he had to watch when everyone went to sleep dare to open up to sneak pork manure. Now install the biogas tank and gas is not used up and gas pipes to the stove for the neighbor's brother to use. The bad odor disturb neighbors, more good environment everyone in the family good health, raising pigs also less disease.

In order to assess the effectiveness of investment in environmental treatment of small scale biogas plants in LCASP households in Ha Tinh province, we looked to Nguyen Cong Dung's family in Dan village Trung, Thach Long Commune, Thach Ha District. In 2015, his family was supported by the project with 3 million VND to build a composite tank. After investing 12 million dong, he completed the tunnel system, the waste water tank, the gas outlet and the gas line.

"Each litter I raise about 20 pigs is enough fuel for living in the family. The biogas plant saved me nearly 1 million dong of industrial gas in a year. Especially, the cages area is always clean, no smell, "Dung said.

"Leverage" promotes livestock

Ms. Lai Thi Thi, owner of small scale pig raising in Team 7, Nghia Tan Commune, Nghia Hung District, Nam Dinh Province. With 20 pigs, 4 months of export sales, one year of export of 3 batches, calculated one year she collected 100-150 million, except for production costs, profits of about 40-50 million. She confided: "Since the biogas reactor, the effect is very obvious. Waste from the breeding area no longer littered the sewers, ditches, the environment cleaner. In addition, biogas used in living is very effective. My family used to have 4 liquefied gas tanks a year, but now there are biogas, which use less than 2 cylinders a year. Besides, biogas is used to cook water, and pigs are also very fast. " According to Thi, before having no biogas tunnel, her pig manure is used only to fertilize the field, waste water is discharged directly to the general canal of the village. However, when 2015, when the aspirations to build biogas tunnel, she was supported LCASP project 3 million, spent only 7 million to build a biogas tunnel with volume 7m3. This woman also confessed: "When the weight is high, 20 pigs discharge a lot of excrement. I know, the 7m3 biogas tunnel can not handle the stench of overload. Thanks to the consultant project technician, I built a dung pot, poured out every day, mixed straw and mud to compost the rice field. The biogas digesters mainly treat wastewater with a little residue. " Since then, her family has solved the problem of waste, wastewater in livestock.
Le Thi Thiet, Nui O Hamlet, Tien Dung Commune, Yen Dung District (Bac Giang Province) shares that biogas is like a "lever" to help her family expand her husbandry. Because with 4 sows breeding, each year she has nearly 100 pigs for breeding. The smell of stool, wastewater is very polluted. If there is no biogas plant, the house must be shut down. Although it has just invested in the construction of a 18.4m3 biogas reactor under the LCASP project, but now, she will invest in an equivalent tunnel to double the breeding scale compared to the current time.

According to Mr. Dung, Nguyen Van Hoang in Gia Ngai village 1, Thach Long commune said that one year he raised two litters, each litter of sows and pigs. Previously, pig waste was dumped into a pit built of cement, with no cover, water flowing out to the garden, swarming flies filled with pigsty, stew, stinky smell up, especially The weather turns days.

After the low carbon project deployed to the commune, he registered to participate and was supported 3 million. At present, his family is working effectively, ensuring safety and environmental sanitation, no wasted garden waste and gas from livestock also ensure adequate living in the family.