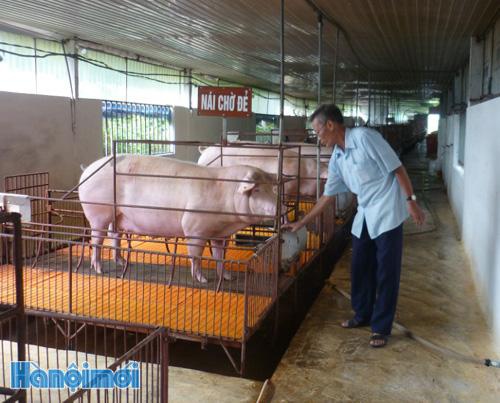 Pig raising by bio-food in a family of Phuc Tho district.
The model was piloted in three households in Tho Loc commune, including Nguyen Hung Thuy, Nguyen Duy Ky and Nguyen Van Son. Each household has 30 children, of which, Hanoi Livestock Development Center supports 100% of breeding stock, 30% of feed cost and technical support during the implementation of the model. Technical process of stable growth, average weight gain from 25 to 28 kg / month.

Deputy Director of Economic Department Phuc Tho District Bui Thi Thanh Tuyet said: When importing pigs from 20 to 25 kg / head, after 90 days of breeding, the average of each pigs fed with biological feed. Interest income from 600,000 to 700,000 VND per child. Livestock breeding in the direction of biosafety not only bring stable economic efficiency but also contribute to improving product quality and minimizing environmental pollution. Because in the process of using microbial enzymes to stimulate the digestive process, increase the ability to absorb food and increase metabolism and energy to make pigs gain weight rapidly.
Mr. Nguyen Hung Thuy said: Piloted the model, his family has borrowed money to build housing systems with fans, ventilators to cool and ventilate pigs to grow well, buy a mill, mixers Pig food ... According to the guidance of professional staff, Mr Thatcher pigs from 20 to 30 kg per pig from the mother pigs and feed 100% bio-bran. As a result, after 3 months of breeding, the quality of meat is firm, fresh and eye-catching, when boiled meat is delicious, sweet and odorless. Sows, 130 meat pigs. Every year, Thuy alone sells pigs of about 400 million VND.
Similarly, Nguyen Duy Ky's livestock breeding center is raising 300 meat pigs and 50 sows. Each month, he sells 30 meat pigs, earning about 200 million dong a year. Mr. Nguyen Van Son's foundation is also well developed, estimated to earn a few hundred million dong per year, which is several times higher than that of traditional pig raising.
The success of this model has opened a new development direction for the livestock sector in Phuc Tho district. This is a farming model towards clean and sustainable agriculture, creating safe and high quality food. In 2016, the People's Committee of Phuc Tho District has opened a business shop and introduced clean pork products in Phuc Tho Town to serve the needs of the people inside and outside the district.
With the objective of sustainable economic development associated with environmental protection, gradually establishing the linkage chain from production to sale of safe pork products, in the coming time, Phuc Tho district will continue to promote the declaration To propagate and mobilize livestock producers to switch to this livestock form and adopt policies to support livestock farmers on preferential loans. At the same time, the district will continue to contact with companies, enterprises and restaurants in And outside the district on product consumption, contributing to increase economic efficiency, create sustainability in livestock.