"Dare to think, dare to do, not enough capital, enthusiasm, eager to learn, hardworking and constantly creative, applying new scientific and technological progress is the key to success," Bui Thi Huyen, her boss Truong Tung Animal Husbandry and General Service Cooperative, Vinh Tuong Commune, Vinh Phuc Province - one of 63 farmers nationwide to receive the title of Excellent Vietnamese Farmer in 2016 at 14-10 past Share with us.

Enterprising

Never again Bui Thi Huyen thinks she will move to professional pig farming and become the owner of a large scale livestock cooperative. Living life on two rice fields and small retail business, economic circumstances just enough to eat, Huyen does not intend to invest in big business, get rich. When promoted by the government, the Farmers Association encouraged and facilitated the change in the way of thinking that they wanted to get rich, concentrating on raising livestock and expanding their services on the land was a promising direction.

In early 2013, when a local farm owner wanted to sell because of a loss, the Huyen couple boldly decided to buy back, turning the idea of ​​cooking long into reality. Thought to do, the couple boldly put red book bank loans, borrow friends to invest in large-scale pig breeding farms under the advanced technology. Many people know about disability, but her husband and wife are determined not to miss the opportunity to grow rich by faith if all the effort and enthusiasm, hard work, learning will be successful.
Investing in large-scale integrated breeding farms, Huyen's family makes a profit of 3.7 billion dong a year.
Great things start. Initially, the old farm facilities were only a simple breeding system and a muddy road. Huyen invested nearly VND5 billion to build a system of large-scale pig and chicken farms. Closed ideals, modern. The initial scale consisted of five open stalls, then converted into five closed cages, totaling 2,500 cows divided into porkers, gilts, gilts and gilts.

If you do not have the knowledge, knowledge and expertise in disease prevention, you can lose money and lose money. Ms. Huyen directly visit the models of breeding in the provinces, actively contact and learn the experience of the prestigious units, leading technology experience in pig raising with advanced scientific technology demonstrates Great, enlist the advice of scientists, self-tantalize reading, go online to acquire knowledge, and then apply to the practice of his farm.

The stages of breeding are very strict, from the selection stage is very meticulous, only select breeding of high quality. "Hundreds or not by hand familiar", just do drawing experience, now she has to take care of, care for all stages. Although Director of Livestock Co-operative and General Services of the Tung School, but all day, she is always busy with the workers on the farm. "Pig care is no different than child care, always have to" three with "pig," Huyen share. The husband and wife installed a camera surveillance system throughout the farm to observe and timely direct all work. The 2.5 hectare farmhouse is always green, clean, airy, the cage has a cool air conditioning system always keep warm in winter, cool in summer, temperature range from 28 to 30 degrees C, no smell. I have an automatic feeder and a table detailing the food schedule, vaccination, feed volume for each pig herd.

The farm employs a self-contained production process, uses Dabaco bran, strict adherence to disease prevention, vaccination 100% for pigs, frequent hygiene and sprays antiseptic spray disinfection periodic. Biogas, four biogas plants to treat animal waste and utilize gas. Strict control of people and objects in the breeding area to avoid pathogens penetration, strict application of antiseptic regulations, ensuring the source of water as well as food sources are always clean, Disease, all pigs are healthy, eat good sleep, fast. Huyen said that when pigs show signs of illness, anorexia, she directly with workers at duty in the cage to handle the situation, and no less sleep white pigs and deliver pigs delivery.
Pig house
Do not stop exploring, study hard to apply technical achievements, new methods in breeding, product quality is constantly increasing. And today's success comes from prudent implementation. Investing pig farms in need of large capital, it is easy to risk because of the disease, initially Huyen husband and her husband affiliated with Dabaco Vietnam Joint Stock Company to be transferred scientific and animal husbandry techniques. Products, so the cost of investment decreased and have the opportunity to endure learning experience. However, raising two batches only 4,200 VND / kg, the turnover is not high, she switched to raising pork in the form of independent self-sufficient. After three years of accounting, although the interest is higher but still not high because the pig raising only develops the tops, raising swine is fast turnaround, higher profits, while the demand of the market is large.

Initially breeding 80 super lean sows to serve breeding animals, now breeding 270 sows, supplying pigs to neighboring provinces such as Bac Giang, Thai Nguyen, Hung Yen, Son Tay, Phu-Tho. Since then, the closed production model has been formed, actively taking all steps from seed to disease prevention, food source and product output. Ms. Huyen calculated, the total investment capital of more than 15 billion, every year minus all expenses, families profit of 3.7 billion. In 2015 alone, the farm provided the market with 6,750 piglets; 1,400 porkers; 20 tons of chicken; 1.4 tons of ducks; 2 tons of fish meat.

The secret of success

Sharing the secret of success, Ms. Huyen said that always put prestige on the top. When the processing must comply with the requirements of the partner, when the self-breeding must strictly follow the process of raising safe and keep the credibility in the transaction, if dazzling for profit but do not care otherwise. What self harm? The reason for the "output" of the farm is not enough to meet the market demand not only for clean products, high standards of food hygiene and safety, but also by the cooperative owner dynamic search market.

A large scale slaughterhouse in Hanoi for many years now accepts the product despite the higher purchase price, because the farm complies with strict inspection procedures and strict requirements on weight, quality. Pigs, especially say no to banned substances. Utilizing social networking to promote business, interact with customers in need, the number of breeding pigs of the farm produce is increasing in many provinces and cities in the country.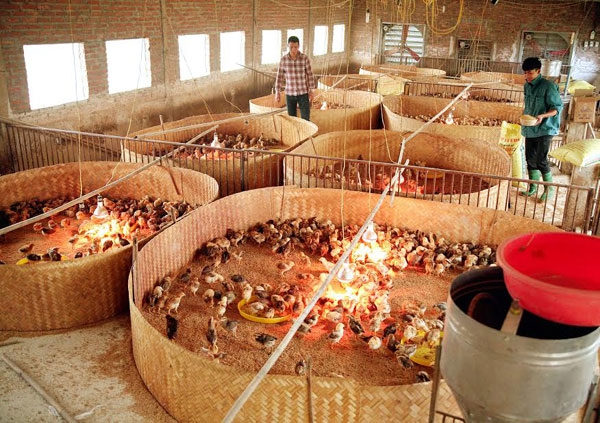 Chicken house
The breeding farm has just been recognized as VietGap standard, creating regular jobs for eight laborers with an average income of VND 5 million / person / month, VND billion per year for building spacious houses and expanding investment. Breeding, which is the initial results after nearly four years of practice ... raising pigs. With abundant income and experience, Huyen and her husband have the opportunity to communicate their experience and help farmers to reduce poverty, enrich themselves from livestock, actively participate in community activities. charity.

Ms. Huyen revealed that pork is still a popular food in the family's daily meals and that raising livestock in the direction of standard, high quality is the way to get rich. On the momentum of success, the couple plans to continue to expand production, build more farms. And the desire not only of her own family but of many farmers have "new thinking, new awareness, new knowledge, new cultural life and new determination" want to be supported special treatment mechanisms These include assistance with investment procedures, land funds, low interest loans, tax reductions, epidemic prevention ... to develop more efficient business and confidence integration.