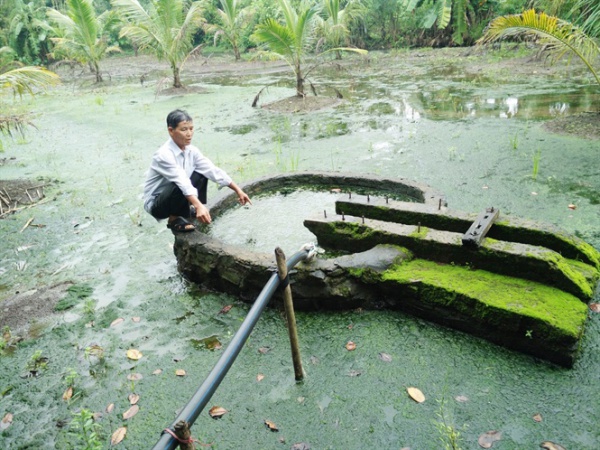 Most of the wastewater is only contained in biogas tanks, not thoroughly treated before being discharged into the environment
According to Dong Nai Department of Agriculture and Rural Development, over 24 million livestock and poultry in the province; Of which about 1.7 million pigs, 16 million chickens; The remaining are buffalos, cows, goats ... Dong Nai has nearly 2.6 thousand breeding farms and nearly 22 thousand small livestock. Most of the farms are concentrated in Thong Nhat, Trang Bom and Xuan Loc districts.

Living with pollution

According to many households in Quang Trung commune, Thong Nhat district, they have been living for years with stench from the pig farms of Nguyen Manh Dat, Tran Van Than and Tran Thi Hoa. Intense can not bear.

Nguyen Thi Lien, a resident of Nguyen Hue 2 Hamlet, said: "My family is one of the households that have been seriously affected by this pig farm. At home when I have a little child, every day to breathe the smell of stinking pigs can not tolerate this is not possible to send us to her children! "

Similarly, living away from pig farms hundreds of meters but many other households can not escape the smell. From the day the pig farms "surrounded" the residential areas, their lives were turned upside down, more sick.

The pollution situation from pig farms lasts for many years, people have petitioned, but still not improved. However, when exchanging with PV, the chairman of Quang Trung commune People's Committee Pham Van Nam said: "When it rains, many of the basements are full, so they come out and smelly. Over the past time, the commune and district authorities have checked and reminded them to sanction these pig farms, each of which polluted VND2 million and required the farms to reduce the pigs. "

According to Nam, by 2018, all pig farms in the commune moved away.

Many biogas digester substandard

With the fast pace of animal development, the waste treatment of livestock has not been properly invested in by farmers and smallholders leading to environmental pollution, causing people to be disturbed. Live near the livestock. However, many livestock farms are concerned only with short-term profits and "forget" about investing in measures to secure their surroundings.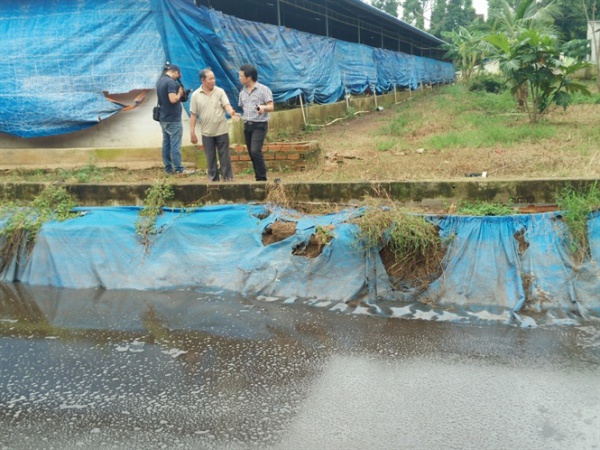 Many biogas plants and ponds dispose of substandard animal waste

Followed the staff of Hung Loc commune (Thong Nhat district) to check the pig farm of Mr. Tran Thanh in Hung Thanh hamlet, is considered to be of great scale and investment. As observed by the PV, all three rows of pigs raising hundreds of pigs, water and waste were dumped in a small biogas plant at the corner of the garden. Carefully, this pig farm also designed an underground sewer leading straight to the stream ditch without the need to pass through biogas digester.

In the presence of reporters and commune officials, the black waste water was leaking through the sewers into the ditch to the stream. Farmer Tran Thanh still deliberately advocated: "Due to heavy rain raining so that biogas and ponds are filled so that waste water flows out so. I will fix it immediately.

Continuing to be present at the pig farm in Bau Ham 2 commune (Thong Nhat district) of Mac Nhu Duc household has about 100 pigs, the waste treatment is carried out in the biogas reactor to collect gas for cooking. Wastewater generated overload is deposited in the lake itself, but his family is not able to invest in the system of standardized waste water treatment biogas.

Le Khac Son, Vice Chairman of Xuan Loc District People's Committee said: "Most of the farms only apply biogas digesters to treat waste, while very few farms have invested in standardized waste water treatment systems. . Therefore, pollution is still high and appropriate solutions are needed for sustainable livestock development. "

In fact, many biogas tunnels are not up to standards so the waste water treatment is not satisfactory. This is also the general situation of many other localities in the province. There are nearly 9,000 new farms in the whole province. Small scale farmers use biogas digesters and biological tanks to filter. The rest are discharged directly into the environment. According to Dong Nai Department of Natural Resources and Environment, very few livestock farms in the province invest in the construction of wastewater treatment systems in livestock production before discharge into the environment because such a system is very expensive from 1- 3 billion. For small and medium farms, small scale households invest in a wastewater treatment system that is very difficult.