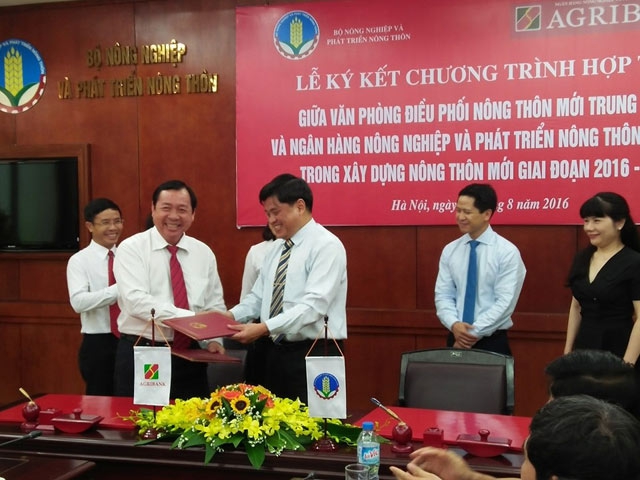 According to the report, after 5 years of implementation, the country has had 1,976 communes meeting NTM standards, 24 districts reach NTM district and 42.38% of communes meet environmental criteria.

On the Agribank side, according to the report of this bank, Agribank considers serving the agriculture and rural areas as a great task entrusted by the Party and State, over the past years, outstanding loans for agricultural and rural loans of the Bank. Agribank always accounts for 70% of the total loan balance of the economy and 50% of total outstanding loans for agricultural and rural loans of banks. Specifically, after five years Agribank has deployed loans in 9,000 communes, with 2.5 million customers, total outstanding loans of 280,000 billion.

Speaking at the signing ceremony, Agribank CEO Tiet Van Thanh affirmed that during the period 2016-2020, Agribank will continue to promote cooperation with the Central Nontaburi, MARD, affirming that the budget Leading investment in agriculture and rural areas.

"By 2015 we have completed the restructuring of the industry and are going to develop steadily. We pledge to continue to promote better cooperation with the Central NTPC, in which we pay special attention to investing in green agriculture and high technology. In addition, Agribank also wishes to continue receiving the attention and assistance of MARD, the State Bank of Vietnam and other ministries and sectors, enabling Agribank to improve its operational efficiency and make a more active contribution. In building NTM, contributing to macroeconomic stability, inflation control ... "- said Mr. Thanh.

Deputy Minister of Agriculture and Rural Development, Deputy Head of the Central Steering Committee of the Rural Development Program Tran Thanh Nam highly appreciated the cooperation between Agribank and NTM Coordination Office in implementing agricultural and agricultural loan programs. Village, NTM construction.

"We are currently implementing two major programs, the Sustainable Poverty Reduction Program and the NTM Development Program. This is a program to promote good agricultural restructuring. Therefore, in the coming time, the cooperation between the two sides should be strengthened further by reorganizing production, forming and developing the model from production to consumption. Specifying the key plants and animals, especially the need to bring high technology, automatic irrigation, drip into production, "Nam emphasized.

"By the end of July 2016, the total assets of Agribank is 980 trillion dong, total outstanding loans reached 700 trillion dong. Of which agriculture and rural loans account for 70%. Agribank currently has 40,000 employees, 2,300 branches and transaction offices nationwide. A reliable partner of more than 30,000 businesses and 11 million households. "