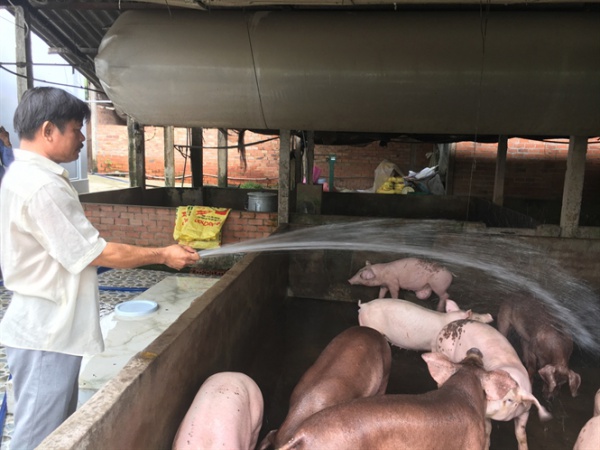 Mr. Thanh looks after pigs
More than 20 years ago, Thanh was a farmer who hired bonsai trees for the garden of Mr. Tran Xuan Chi in Cu Chi (HCMC). Because of low wages, not enough to cover his life, he asked his owner to raise pigs. Not only agreeing but the boss also bought him a pair of breeding pigs.

From the pair of pigs raised in the garden, in 2000 he developed 12 sows. In 2005, he moved pigs to his home. In 2008, he became the good face of Duc Hoa district.

In 2009, he joined the breeding team in the industrial direction of the hamlet. So far, his pig farm has 140 sows and regularly has 300 porkers. Each year the market is 3-4 times, the total number of pigs supplying the market each year more than 70 tons.

"The most important thing when raising pigs is the treatment of waste," Thanh said. "I use all the biogas of the pig farm for generators to run the blender and mix the corn, beans, Digestive enzymes and digestive enzymes ... to prepare feed for pigs.Water waste from the cellar is irrigated to the grass fields to provide grass for raising cattle in the hamlet.

That is also the secret of raising pigs without loss of his capital. He added: "I always work hard and make every effort to save money to reduce the production cost, from making food to the floor to laying sow ... I also do it myself. And veterinary not only self shots, inoculation for sick pigs, but also in vitro fertilization for pigs self-made and ... have not failed at all.

According to Thanh, a bag of animal feed 25kg cost about 285,000 VND, the price of 25kg of food he self-made is only 190,000 - 230,000. To feed a pig to 1 quintal, it takes about 200kg of bran in 5 months 10 days (from pig to delivery). One floor laying for sows bought outside cost 7 million, he himself save 50%. Therefore, when people raise each pig 500,000 VND, he is 800,000 - 900,000 VND.

Mr. Nguyen Tan Trieu, Head of Agriculture Department of Duc Hoa district, said the total number of pigs (sows) of the district now has more than 33,000, of which Duc Lap Ha commune with 4,952 children. Especially, this commune has cooperative group raising pigs for nearly 10 years, which makes good use of technical advances in production. The district is building a safe pig breeding process to transfer to the households as well as connect the consumption of products.