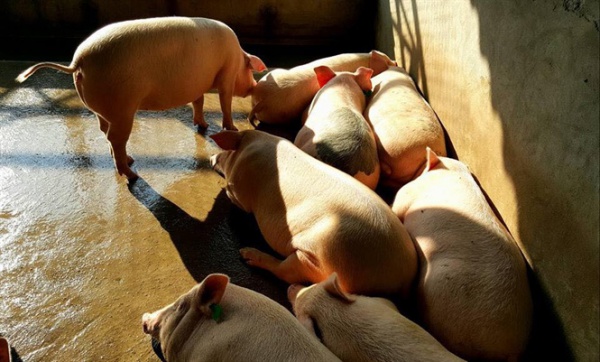 insPony green tea mounta
International Trading and Investment Joint Stock Company ORGEN is introducing to the consumers of Siewang green tea pork meat produced by organic farming.

Ms. Nguyen Ho Diep Ha, representative of the company said, this idea is in the chain of organic production of organic and organic agricultural products.
Currently, the company has 2 farms linking raising pigs green tea mountains in Vietnam. Company's technical manager said: There are 3 basic principles are strictly applied to organic pig farming.
One is to choose the purebred breed, not the artificial embryo, the breed derived from the parent pig is the organic pig. Second is the use of bran from organic food, absolutely no genetically modified (Non-GMO), in the food ingredients always have green tea in various forms suitable for each stage of growth; Pigs drink water and bathe in green tea. Three are always strictly adhered to the rules of livestock diary.
Due to the organic method completely natural, no use of growth stimulants, lean substance ... so green pigs gain weight slowly, must be 7-8 months to be finished. According to calculations, pigs usually have four months to finish the weight of 80-100 kg and organic pigs from 7 to 8 months to reach the weight of 35-55kg depending on the breed pigs and especially the quality control process of products. strict.
This is the reason that the price of Siewang green tea is higher than that of ordinary pork and due to lack of production so far, there is a chain of organic food store at Tay Son street (Hanoi). Selected delivery.
According to food expert Phan Anh, Ambassador of Korean cuisine in Vietnam, green tea is good for human health. With pigs, when fed with green tea leaves, they help reduce stress, reduce the risk of disease, and make pork tender and tasty. The drink green tea for pigs will help the pig burn all the excess fat in the body to make the fat hunting, when eating feeling not fat.
The use of green tea in pig production is a benign method. However, this product has a real impact, affecting the quality of meat or not, it should be evaluated in a scientific way.
That ORGEN side should do the same with expanding the market to provide consumers with a solid foundation of trust for a good quality agricultural product and to expand the scale of production and distribution. So that more people can get high quality food.
Siew sang Sung is raised separately, far from residential areas. The breeding grounds have a playground for pigs, and around the cages are hanged herbal baskets such as the yellow comb that absorb the poison and drive out insects.
Instead of laying on cement, the pigs are placed on bio-pads with EM irrigation water, which helps the entire waste to be used by all beneficial microorganisms. This technology keeps farms clean without the smell of waste and flies and mosquitoes.
In addition, when slaughtered, pigs are green slaughtered in the humane method, helping pigs not stress. Chains from livestock - slaughter - consumption of products, are raised in a unified process and strictly controlled from the raw material input stage of the chain. The chain uses self-mixed feed and bio-fermented food.
For organic pork, all packaging specifies the producer, date of production (ie date of slaughter, packaging) and shelf life is clear, consumers do not have to worry about eating meat is unknown. Origin and peace of mind for the health of family members.