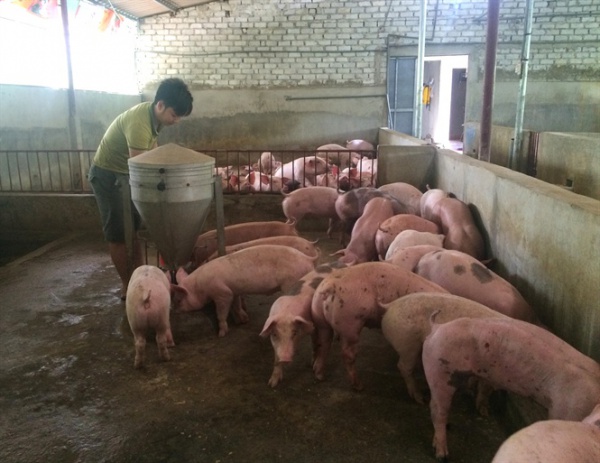 Mr. Nguyen Xuan Nhat's porker farm earns about 200 million dong a year.
Dao Ngoc Thang, Vice Chairman of the People's Committee of Hoang Phuong Commune, said that the objective of the "Livestock Industry and Food Safety (LIFSAP)" project is to improve the competitiveness of livestock products by improving Productivity, quality, food hygiene and safety in a safe chain from farm to table. In June 2014, Hoang Phuong Commune officially joined the project. Up to now, four GAHP groups have been established. Each group consists of 20 households with an average of 15 pigs per household.

A typical example of good husbandry in Hoang Phuong commune is Mr. Nguyen Xuan Nhat (SN 1993). Few know that, in order to succeed today, he and his wife have experienced many faults.

Previously, Nhat's family used to raise pigs on a small scale due to lack of understanding of the process, lack of orientation and low income, not to mention heavy losses due to disease outbreak.

After participating in the GAHP group, being well trained, clearly seeing the benefits of the project, Mr. Nhat decided to raise funds and invest about 500 million VND to build a standard breeding system. On the area of ​​220m2 to do business.

Mr. Nguyen Duc Nam, head of the GAHP Livestock Co-operative in Hoang Phuong Commune, remarked that Nhat's farm fully meets the standards set in a high, cool and isolated location, separated from living quarters and sources. country; There are biodegradation pits, biogas reactors; Waste water collection system and separate feeder.

In order to assess the reality and minimize the risk level, Nhat initially imported only 35 breeding pigs. After a while of tracking, realizing the model developed well, he decided to increase herd. Up to this point, the farm has maintained a steadily stable of 90-100 porkers.

"GAHP process pigs require very large initial investment costs but the return on efficiency is very practical. Throughout the implementation process, from breeding to food to delivery, the process is carried out correctly, so the product is highly appreciated by consumers, how much is consumed, "said Nhat. confirmed.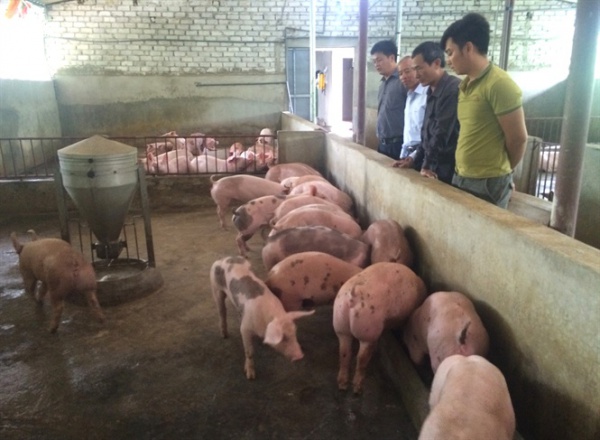 By observing the actual situation, Nhat noticed that for 10 kg pigs if applied the old way, from breeding to production (weight from 90 kg to 1 quintal) process lasts from 130 to 140 days , The new method of farming is reduced to 120-126 days.

At the time of export, each pig consumed about 3 kg of bran per day (the price of bran from 12,000 to 15,000 VND / kg), so the calculation of each family case he saved about 35 million.

Participating in the GAHP farmer raising process helped him become more aware in the production and business process. If before, the economic value placed on top of the time, new product quality is the key factor. In order to minimize the risk of epidemics, he and his wife often carry out clean room and vaccination for pets.

Thanks to the implementation of the farm, his farm is rare disease occurs, if there is only small appear on the range of several children, the treatment is simple, lightweight.

From these outstanding achievements, at the end of 2015, his family's farm was officially recognized as VietGAHP. At any time, the product from his farm is always worth more than the market from 4000 to 6000 per kg).

Every year, Mr Nhat's farm produces 2.5 litters of porkers, which are exported to the market of less than 25 tons, except for family related expenses of 200 million VND per year. It is expected that in 2 years will recover all the initial investment funds.

"GAHP process farming improves the environment while enhancing product value. The awareness of disease prevention for livestock of people has marked changes, if the vaccination rate was only from 30 to 50% now it has increased to 95 - 100%. In the coming time, the localities will focus on attracting and calling for enterprises to cooperate with the VietGAHP Animal Husbandry Cooperative to sign a contract on product consumption, step by step forming a safe food chain, "Dao said. Ngoc Thang.