Considered as a negative impact on Vietnam's accession to trade agreements, in 2016, livestock sector continued to maintain impressive growth with a forecast increase of 5, 6%. Not only is it strong in the wind, Vietnamese livestock are ready to reach out to the international market.

Talking with NNVN, Mr. Hoang Thanh Van (pictured), Director of the Department of Livestock Development (MARD) has reviewed the pedestal bright spots to help the livestock industry continue to rise strongly in 2016.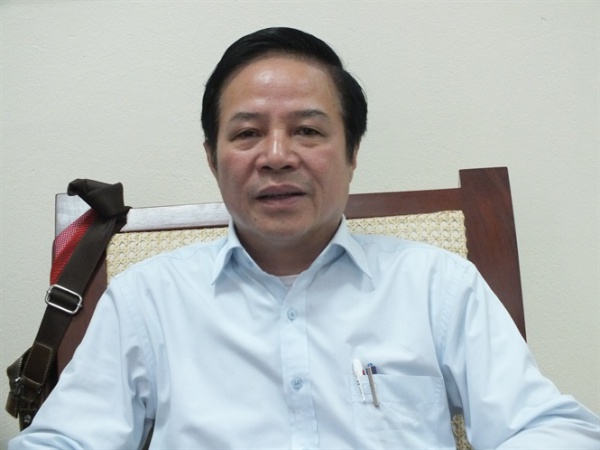 Leaping quality pig breed

2016 is the year that has witnessed dramatic changes in the composition of the herd of livestock of all livestock and poultry species in the direction of commodity production and high added value in accordance with the orientation and scheme of re The structure of the livestock sector has been implemented.

For pigs, success must first include the management and improvement of the quality of the stock. Specifically, the boars, in line with the boar management program, have been in operation since 2015 and by the end of 2016, most of the provinces have completed basic numbering, ear tags for boars, Eliminating unsatisfactory ones.

The quality of male pigs has increased sharply, with a sharp decrease in the number of live boars, and the number of artificial insemination gilts has also risen sharply (in 2016, the number of pigs increased by 20% Artificial insemination cows). This is a great number to increase the quality of pig herd in the country.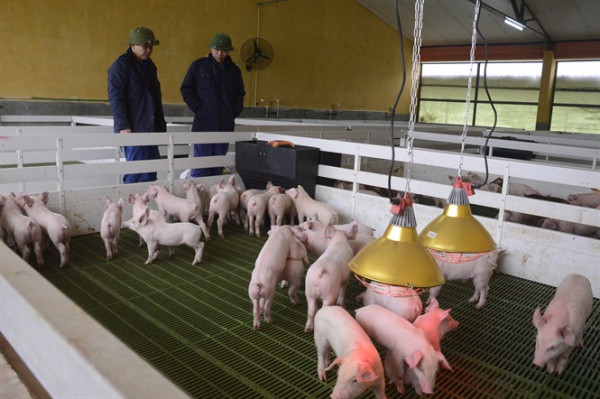 In 2016, the quality of livestock breeds has made breakthroughs, especially pigs.
In addition, the number of pigs of high quality imported seeds in 2016 has increased sharply. According to statistics by the end of December 2016, the country has imported about 8,000 pigs and grandparents, up 270% compared to the average annual (average only around 3,000 children per year). Of these, imported species are high quality, mainly from countries with the most advanced pig raising in the world today such as Denmark, USA, Canada, part of Australia and Thailand. Thanks to the improvement of breeding pigs, in 2016, although the total number of sows in the whole country has not increased in general, the number of pigs reproducing has increased sharply, especially the number of pigs born in 2016 has increased. Approximately 2 cows / sow. If the national average is about 3.8 - 4.2 million sows, with each increase of about 1.7 children / sow per year, the country has increased by 7 million piglets.

Accordingly, some companies have high yield sows with an average of 30 sows / sow / year (compared with the highest level of 28 per year in 2015). With the increase and improvement of breed stocks, according to statistics from the statistics office, in 2016 the country has increased about 5% of the total pig herd, output increased about 6%.

Breaking the structure and quality of beef and poultry

About the cattle, if in 2015, the country imports nearly 300 thousand whole beef cows from Australia and other countries, in 2016, this number has fallen sharply. Instead, many companies have begun importing high quality bulls for water to directly improve the productivity and quality of domestic beef herds.

According to statistics until 2016, the company has imported 35 countries bulls, with the best quality beef breeds such as BBB, Red Angus, Droughtmaster, Brahman. Currently, some bulls from NK have harvested semen, put on the market and received by the farmers, highly appreciated.

In 2016, statistics show that the country has imported more than 2 million doses of dandruff, which is the core of dairy cows, semen quality sex and high quality beef from high-quality developed countries. This shows that renovating, raising the stature and quality of beef herds in 2016 has been making new breakthroughs, attracting many localities and supporting policies, especially support High quality translation in accordance with Decision 50/2014 / QD-TTg of the Prime Minister on support policies for smallholder livestock.

Poultry breeding in 2016 continues to maintain good growth momentum, with a total increase of about 5.5% (equivalent to about 350 to 360 million poultry are regularly present, of which the chickens, ducks from 85 - 90 million). In general, poultry are still tending to increase year by year and there are no signs of stopping.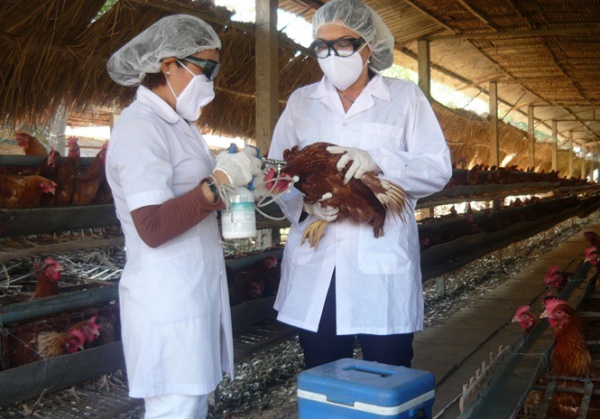 Vietnamese poultry market.In 2016, chicken feathers continue to overwhelm the
What is special is that there has been a great structural shift from white-headed chickens to feathered chickens, by 2015 it will grow by 18.7% and by 2016 will continue to grow 15% The countrywide feathers make up approximately 70% (instead of the former 60% white feathers and 40% feathers). This reflects the current domestic demand for chickens are increasingly dominant, not only that, chicken price is always higher than 1.7 to 2 times, even 3 times higher than With white feathers

One of the most significant innovations in poultry production in 2016 of chicken feathers is the fact that almost all seed sources have been actively researched, produced to 90%, with many companies in the country self-study production such as company Dabaco, Minh Du, Phung Dau Son ... Some foreign corporations such as Japfa Comfeed, CP, formerly known as white-tailed chickens are now turning to chickens.

Collapse banned substances
With the disease situation under control, prices of livestock products are quite stable, by 2016, the authorities thoroughly prevent the banned substances and initially put antibiotics into the management framework is considered the pedestal Help the livestock sector to maintain its sustainable development.

Continuing the "declaration of war" with banned substances in breeding has been implemented since 2015, 2016, Department of Animal Husbandry in cooperation with Inspectorate of MARD and with C49 (Ministry of Public Security) has continued to maintain the circuit Aggressive attack, focusing on a series of inspections, unexpected inspections, combined with investigations and reconnaissance of the police.

The Department of Animal Husbandry has presided over 13 inspections, including sudden, severe punishment with billions of fine fines. By the end of 2016, the situation of banned substances in livestock can be said to have been stopped, many hot spots previously no longer detectable.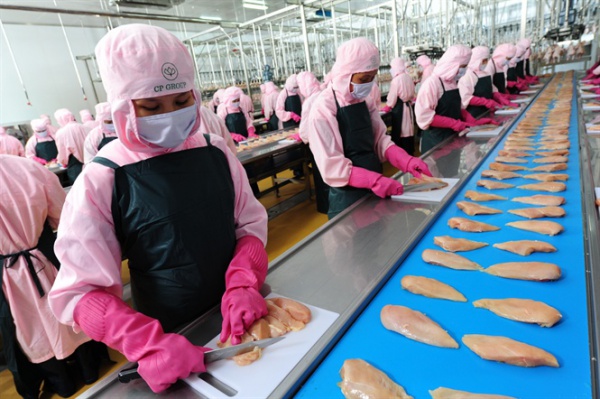 The livestock sector is preparing conditions for ready-to-export livestock products to some markets in 2017; In the picture is chicken processing at Cp Vietnam
For antibiotics in livestock breeding, in 2016, Department of Animal Husbandry advised and submitted to Ministry of Agriculture and Rural Development signed Circular 06/2016 / TT-BNNPTNT issued list, the amount of antibiotics allowed to use in feeding blanket Farming (TAC). Accordingly, the number of antibiotics allowed for use in TAC from 42 to 15 was reduced, both in terms of the number of antibiotics that stimulated growth and the maximum allowable levels in TAC ( Average 50% reduction in content compared to before). In the past, antibiotics have been allowed to be used in TAC for the prevention and treatment of poultry and livestock diseases, and most of the factories have previously applied TAC. However, coming here, will also proceed to prohibit the introduction of antibiotics to prevent disease in TAC.

With this move, the animal husbandry sector has been making concrete steps towards a clean and safe breeding. Of course, in the transition from a passive breeding ground, depending on the antibiotic to a non-antibiotic-based animal husbandry in TAC, it will be quite hard, and there are many different views. The common spirit of the whole society, however, is a high consensus of policy, and livestock will have to move towards biosafety.

On dairy cattle, by the end of 2016, statistics show that the total dairy herd nationwide has reached more than 297 thousand ducks, basically reaching the target compared with the plan to 2020 under the restructuring plan of livestock sector is 300 thousand alcohol. The milk production also increased by 13.6% to approximately 900 thousand tonnes (against the target of 1 million tonnes by 2020). Vietnam's dairy products in 2016 have been exported to 13 countries around the world, mainly of TH True Milk and Vinamilk. In particular, dairy farming in 2016 has noted the beginning of moving to invest in breeding farms abroad. According to the disclosure, a dairy company in Vietnam (anonymously) has invested milk production project in the Russian Federation worth about 1.7 billion USD (phase 1 about 500 million USD). Pasture has been planted, workshops have been built, ready to bring cattle. This is a very good sign of dairy farming, not only proactively step by step raw milk raw materials in the country but is reaching the international market strongly.