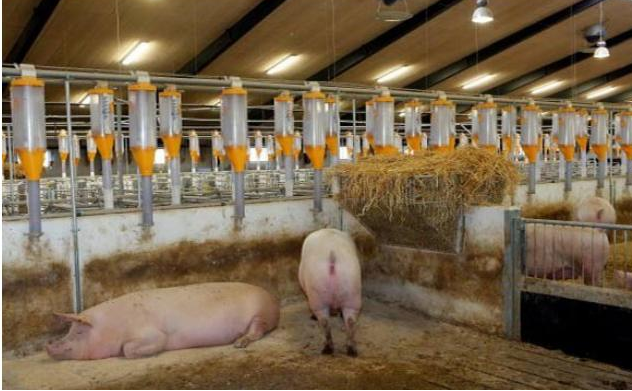 A modern pig raising facility in Denmark (Source: Ministry of Agriculture and Rural Development)
Producing organic fertilizer from animal waste in the world's largest exporter of pork
Denmark is among industrial countries in Europe where pig farming is thriving. The country has 26 million pigs, while its area of ​​agricultural land equals only one fourth of Vietnam's land area (2,676,000 ha) and the population is only nearly double the population of Thanh Hoa province (5. 5 million). Denmark is the world's top exporter of pork, and 85 percent of pigs are exported. It is also home to the world's leading advanced and effective livestock waste treatment technology.
In Denmark, nearly 100 percent of liquid waste from pig raising and bioslurry after biogas are used to fertilize crops. Denmark also requires pig farmers to have plans for annual fertilizer for cultivation land in their farms. In this plan, the farm owner must make use of the manure from animal husbandry and limit the use of chemical fertilizers (nitrogenous fertilizers must not exceed 10 percent of the total nitrogen required for the crop).
Thanks to this rule, Denmark's use of chemical fertilizers has halved in 20 years (from 400,000 tonnes in 1985 to 200,000 tonnes in 2005).
Biogas technology in livestock waste treatment also receives attention in Denmark. Electricity produced by biogas is supported by the government, with 0.6 krone for every 1kWh.
The Low Carbon Agricultural Support Project (LCASP) brings advanced animal waste treatment technologies to Vietnam
At present, Vietnam consumes about 11 million tonnes of fertilizer each year, of which more than 90 percent is chemical fertilizers (2016 statistics showed that Vietnam imported about 4.2 million tonnes of chemical fertilizers worth 1.25 billion USD), and organic fertilizer only accounts for approximately 1 million tonnes. On average, every hectare cultivated in Vietnam absorbs more than 1 tonne of chemical fertilizer each year, a high level compared to other countries in the region.
When using chemical fertilizers, about 30-50 percent of the fertilizer is used by the plants, the rest will evaporate and be washed away, polluting the environment. Meanwhile, with 84.5 million tonnes of solid waste discharged by the livestock industry every year, if animal farms can use advanced technology to produce organic fertilizers from animal waste, environmental pollution will be reduced in a sustainable way.
According to Deputy Minister of Agriculture and Rural Development Le Quoc Doanh, sustainable agricultural production and the creation of high quality safe products is an issue drawing special attention from the Ministry of Agriculture and Rural Development.
He said in the coming time, there will be many policies to encourage enterprises to collect organic fertilizer from agricultural waste byproducts as well as encourage the production of organic agricultural products in order to improve the quality and competitiveness for agricultural products in Vietnam.
Project Director of LCASP Nguyen The Hinh said the project, with loans from the Asian Development Bank (ADB), is working to develop a comprehensive management solution for animal waste and establish organic fertilizer value chains in Vietnam.
"The demand for organic fertilizers in Vietnam is very high so we need to utilize available domestic animal waste to produce quality organic fertilizers. Currently, the project has supported the development of models using fertilizer separators to produce organic fertilizers for farm needs and sold to fertilizer companies in 10 provinces covered by the project. Besides, the project also supports and encourages farms to use water post-biogas to water gardens as a form of liquid organic fertilizer," Hinh said.
International cooperation is needed to improve capacity of animal waste treatment and organic fertilizer production in Vietnam
In order to address the environmental pollution of the livestock sector, Vietnam should call for international support in developing specific institutions and policies for the field and in transferring technologies to handle economic and environmental effects such as biogas technology, biogas-fuelled energy, micro-organisms for rapid composting and waste sorting technology at source.
According to LCASP Waste Management Specialist Henrik Moller, at present, a number of modern animal waste treatment technologies in the world have been brought to Vietnam by LCASP, including solid waste separation technology.-VNA
en.vietnamplus.vn