Provincial staff on village teaching During the past three years, thousands of farmers have been "enriched" with knowledge of livestock waste disposal and biogas technology through these classes. .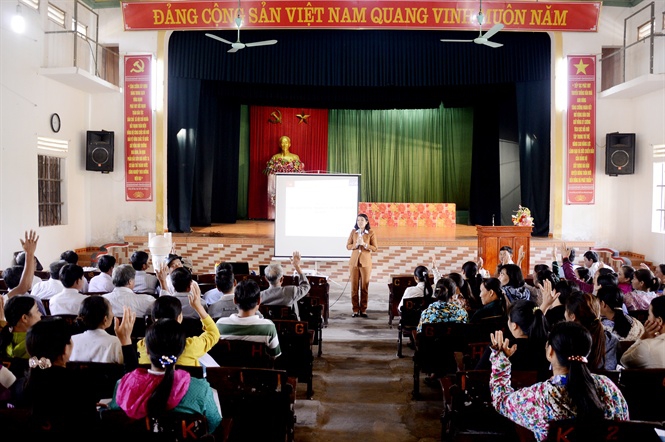 Farmer training on livestock waste disposal organized by LCASP Nam Dinh.
No formality, no ostentatious, with only a laptop connected to the projector and speakers, the "drunken" teacher drunk lecture. Each training course has 50 - 70 trainees. They are farmers who have been supported by the LCASP project to build biogas plants.

They are not only advised on the principles of operation, they are also meticulously guided in techniques of loading raw materials into biogas tunnel, installing gas transmission equipment, cooking equipment and periodical maintenance of biogas works. .

Not to stop there, the hot content of the livestock industry such as the use of banned substances, antibiotics abuse; Disease management and veterinary drug use are also enthusiastically consulted by project staff. This knowledge has opened the way for farmers to access new valuable knowledge areas for effective application, contributing to the sustainable development of livestock.

Ms. Le Thi Thao, Deputy Director of Nam Dinh Department of Animal Husbandry - Veterinary Department is attached to the training courses on reducing greenhouse gas emissions of LCASP project from the first days.
I do not remember how many times I stood on the podium lecturing knowledge to farmers. I only know that, every week must go to the commune 1 - 3 times. Now this district, another district. Before implementing the project, Ms. Thao was trained by the Central Project Management Board of low carbon agricultural support professional training. However, each training session, teachers have to write a separate "lesson plan", appropriate to the level of learners in each locality. Language and style must be very rustic, easy to understand and give many practical examples for easy learners to associate.

Holidays are still hard

The management board of the Nam Dinh Low Carbon Agriculture Support Project has only 8 people in charge of training. On average, there are 150 training courses on greenhouse gas emission reduction. Meanwhile, 100% are part-time staff, so they have to take on heavy responsibility in addition to the time they have to carry out their assigned professional duties.

Mr. Nguyen Trong Tan, Deputy Director of the Nam Dinh Animal Husbandry and Veterinary Department shared that there are three classes at the same time in 3 different provinces. Brothers in the MB must share hard work, the local business trip on a regular basis as a meal. Tired, but we have the motivation to try, as to where to go to be loved by the people.

When the provincial project officer left the "cold room" to get back to the people, the decision of the central government would be implemented quickly and effectively. And, Nam Dinh Province LCASP Project Management Unit is a typical example.

Nam Dinh is a province where the livestock movement thrives. There are about 800,000 pigs in the whole province, 6.500 buffaloes and 7.2 million poultry. Along with the economic efficiency, the income of rural people has been raised, the burden of environmental pollution is becoming more and more visible. According to the report of Nam Dinh Department of Agriculture and Rural Development, each year there are about 1.5 million tons of animal waste. Of which the pig waste is 1.1 million tons (73%). Therefore, the trainings to limit environmental pollution that provincial LCASP project management is very meaningful.

"It is not a good idea to change people's production practices overnight. But, after being trained, each practitioner became a public communicator. They will help change the perception of the surrounding households as the principle of oil spill, "Tan said.

In addition to organizing live local training, from the days of project implementation, the MB actively coordinated, produced programs, articles and uploaded them on the news media. Theung. The videos, clips, newsletters, articles are posted periodically on newspapers, television, online newspapers and broadcasting system from province to each hamlet. MB staff also design leaflets, posters and hangers in the most respectful positions at the commune people's committee headquarters, public places with many households.

When asked about the project as well as the training process, Nguyen Van Hieu, pig farmer in Hai Dong commune, Hai Hau district, said: "The trainers are enthusiastic and attentive. thick. The content of the training is also very rich, many issues of breeding as banned substances or disease of the children are answered all.