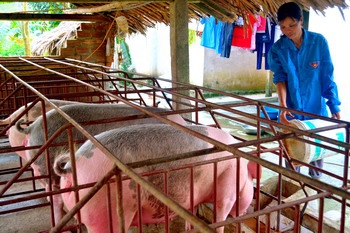 Ms. Dao Thi Huan

Born in 1971, is a Tay ethnic minority, 17 years old. She is married to Trieu Tai Ky, a Dao ethnic group living in Quan Khe commune, Ha Hoa district. He has 2 children: 1 boy, 1 girl. At first because they did not know how to make a living, they only made a living by cutting wood, doing farming and planting forest. Life is hard, hard.

Thanks to the help of all levels, especially the commune leaders, they have helped to develop their family economy. After years of exploring and learning from experience in many places, they decided to fish ponds, grow vegetables, potatoes and sweet potatoes to serve food for the family and livestock. Thanks to your diligence, diligence, hard work, your life is better off. In 2012, you build a spacious two-storey house, life is also stable.

Also in this year, she reared up and taught two orphans both father and mother. Add mouth to eat in the family and take money for school children. They boldly borrowed from the Bank for Social Policies to expand the raising of chickens and pigs, and to buy small trucks to provide services. At present, Dao Thi Huan's family farm has nearly 50 pigs, including 8 sows; Nearly 200 chickens, ducks; 4 hectares of forestry forest, 2 hectares of aquaculture. In addition, he also provides transportation services, food business brings total annual income minus all expenses are nearly 250 million. Life well-off, there was of eat to.

With the society, her family helps five women members each year by using fish seed, agricultural products for livestock and economic development. She is the only female delegate of Ha Hoa district chosen by the Provincial Women's Union as the advanced model to attend the conference of praising ethnic minority women doing good business in northwestern region in Nghe An province in June, 2016. past.